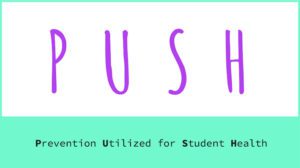 School-aged children and young adults—students–face more challenges today than ever before. The school setting has the opportunity to be a place of refuge, healing and resilience-building if students are given the resources needed to address trauma. With funding from the Children's Services Fund of Jackson County and therapy provided for by Medicaid, CMHS is able to partner with our area school districts to provide elementary, middle school and high school students the tools they need to advocate for themselves and to overcome trauma without turning to drug use or suicide.
Prevention Specialists implement psycho-educational group curriculum to provide students K-12 with help to address bullying, teen-dating violence, grief, loss, violence in the home/community, substance use, suicide awareness and prevention, transition to adulthood and other traumatic events.
In addition to groups, CMHS offers a unique prevention program – Prevention Utilized for Student Health (PUSH). The mission of the PUSH program is to help students and school personnel create a culture where mental health stigma is eliminated, and students feel comfortable asking for and receiving help. PUSH aims to empower students to encourage and help one another, while also teaching them to understand the importance of talking about the things that are going on in their lives with parents, guardians, trusted adults, counselors and teachers.
The School-based Prevention program in comprised of licensed, master's level clinicians who provide a wide variety of support and services to school districts in Eastern Jackson County. Services can include individual and family treatment, group counseling and education, parent and child education on mental health issues, teacher education, teacher and school staff consultation and prevention education. Services are provided on site at numerous schools in the area.